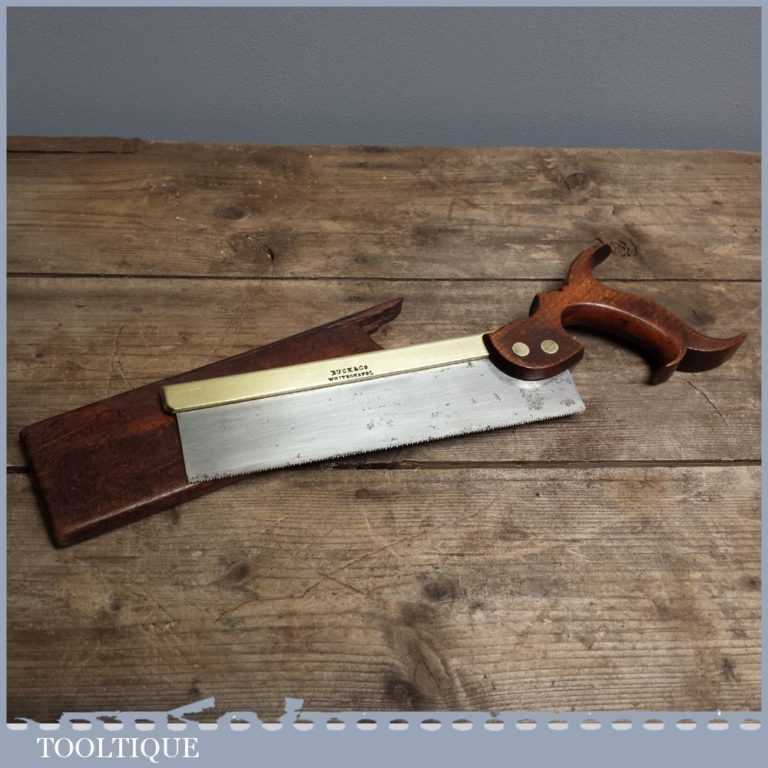 This is one of our recently sold items:
This superb early example of a Dovetail Saw with original wooden cover is in terrific condition for its age and is a dream item for collectors. There very few of these are around today and rarely come onto the market so if your collection doesn't include an item like this you are really missing a trick. The saw feels so good in the hand and screams quality this is why the price reflects this.
A bit of History: In the 1830's – The Buck & Hickman story begins. Matthew Buck a saw maker from Sheffield comes to London sometime around 1829. By 1830 he is successfully set up in business near the present day site of Waterloo Station. His daughter, Ann Buck marries a printer called John Roe Hickman and the origins of the Buck & Hickman name are born. In the 1840's John Roe Hickman dies in 1840. To help provide for her family Ann Hickman opens a tool shop in Whitechapel on Backchurch Lane called 'Buck & Co'. Her son (also called John Roe Hickman) is apprenticed as a tool maker to his Uncle George Buck and eventually goes into partnership with him. 1850's – John Roe Hickman leaves his Uncle's business and comes to work with his mother. The business flourishes and moves to bigger premises in Whitechapel Road. Although the company is still formally called Buck & Co it is already becoming known as 'Buck & Hickman'.