Contrary to most people's belief it's clear there isn't an infinite supply of good quality vintage tools. Many old tools are past their best and require significant effort and skill to refurbish them to the standards the old timers demanded. Given that these tools are limited in their supply there are many things to consider such as how these tools reach the future intended owner, especially when buying online.
We have a very good track record with deliveries despite how some couriers handle parcels, we rarely lose tools in the post as everything is tracked with the additional dedicated tracking service or experience damage due to poor packaging. I know by experience this isn't the case elsewhere when inexperienced sellers of tools ship tools, and it got me wondering to what extent these tools are diminishing due to this reason alone.
As you would expect, over the years we have learned many aspects of tool refurbishment due to our dedication to the topic, and in this article I will focus on many of the pitfalls many would not consider or realise were a problem.
Online restoration of YouTube Videos.
Tip: Never have I seen a tool restoration video where the instructor would match our standards! It's a big statement but true due to the processes and equipment we use needed which most teaching do not have. Secondly, so many of these edited videos don't present a true reflection of the time involved, they target the easiest types and lack the deeper in-depth knowledge. Thirdly they always choose tools with minimal issues which are far more common than they will have you believe. Whilst there are many traditional methods of doing things there are many techniques we use that are unseen which now proceed them for better accuracy and ease.
There are one or two that re-engineer old tools to a new standard but this really is unviable both in time and end value of conducting such an exercise other than the value of running the channel.
The user is an important element in what type of refurbishment is required as there are many aspects in every field. Let me explain woodworking as an example, there is DIY, woodwork such as fencing & sheds, First fix construction and Shuttering which are woodworking but not like the other end of the scale what is commonly known as fine woodworking, Luthiers, cabinet makers would be a good example. As you can appreciate there are other areas spanning the middle territory. This isn't meant to be demeaning in any aspect as each genre has its own involved processes to achieve the end results, it's just a matter of what tools are generally suitable.
Where ever there is a need for detail, accuracy, and efficiency then the quality of each tool and how they perform depends on the manufacturer or the hand that refined it.
So it really depends on the user standards they want to achieve, those who insist a plane just needs to be sharp probably spend most of their time using scrapers to remove tear-out or resort to CA glue and wood dust and the orbital sander. If it's being painted afterwards then these methods will usually work for them. But it's important to understand there are limitations to the tools used and their performance.
Those who want to achieve outstanding craftsmanship will require the very best setup, hence why there is a premium tool market such as Lie Nielson for example. Their prices reflect what is involved for that finer detail which probably wasn't a  straight line to achieve. I recently cast and finished some saw vices for our workshop and there's a lot of intricate work involved but that's another article I'll get around to writing soon.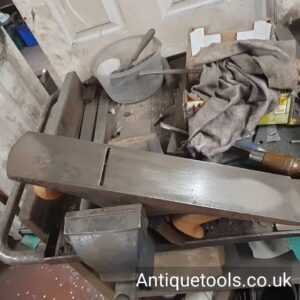 Good refurbishment starts with the sole of a plane, lapped flat to a known flat surface which requires engineering tools such as a surface bed, thick granite is best, and a lab-grade one is the very best, which we use here at Tooltique. So when I see floor tiles, float glass or even in some cases MDF used for lapping soles I can't help but cringe!
This is why I titled this article 'Sole Destroying' because there is no doubt in many cases this is exactly what is going to happen and unfortunately, future buyers will eventually purchase.
Where float glass is helpful when it's being used for small component parts or for flattening the back of irons and chisel etc. A good thick piece will save you loads on those expensive diamond plates which aren't any flatter either.
Why is it essential to have an accurate known flat sole?
I was watching a Paul Sellers video where he used his smoothing plane on timber that had a knotted area and his plane caused tear-out, he followed on with his No: 80 cabinet scraper and ordinary hand scrapers to resolve the tear-out issue. The same can happen with difficult grains but the more accurate the plane and better the setup between the chip breaker and the face of the iron the finer the shavings can be taken which results in minimising the tear-out.
It is important to understand how to maintain a woodworking plane and know how they work to achieve the best results but ask yourself is refurbishing them yourself really worth the hassle?
I also saw a great video from the USA showing a tool fair to buy "cheap old tools" but to many these places involve a lot of travel costs, time and furthermore you still have to undertake the work involved, plus the costs of any abrasives and materials used.
Why own a woodworking plane with such accuracy when something lesser does the job?
I guess again this is user specific on whether they feel they may move onto more detailed work in the future. I know from experience you can't beat a good tool but soon get frustrated when one doesn't do what you need it to do.
As you can see by the images within this article the soles are often inaccurate before we refurbish them due to either wear, poor factory finish, or previously unsuccessful lapping efforts, sometimes it's more than one factor. We also remove any pitting from the sole as they can bleed rust, it's not always 100% possible but is recommended for the reason given.
Another issue rarely talked about is the pitting to the backs of irons where the cap iron sits. This is due to capillary action where moisture is drawn between the two parts. We remove this when flattening the irons and the fettling process for a seamless leading-edge connection. It is always good practice to dissemble these parts when storing them for long durations, a little grease also helps with maintaining these parts.
Tip: A fettled-in cap iron (chip breaker) should be handled with care whilst the back of the iron should not be presented to a stone or diamond plate again as it can change the connection's accuracy. Removal of the burr can be achieved by only working the beveled side.
Hopefully, this gives an insight into a couple of regular issues found on old bench planes and will be helpful when assessing what's involved when buying old bench planes.